National Vietnam War Veterans Day
---
National Vietnam War Veterans Day is Wednesday, March 29, 2023.
Ahead of
National Vietnam War Veterans Day
, Statesville
Mayor Costi Kutteh
presented a proclamation at the 03/20/2023 City Council Meeting to Dianne Wilson, Harold Wilson, Martha Harris, and Chuck Harris.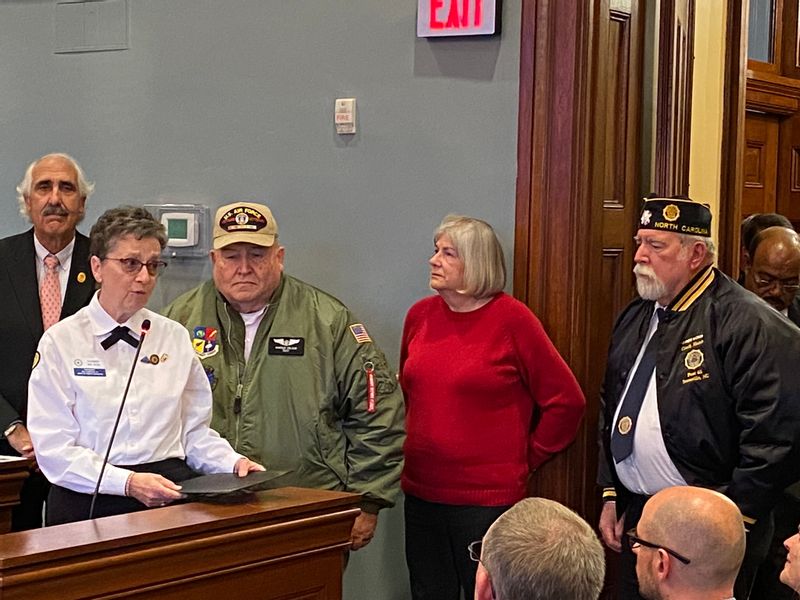 "It gives me a great deal of pride to present these proclamations on a weekly basis. This is a source of additional pride for a couple of reasons because for all of its good and bad, Vietnam is a war of the people who are my age. And, one of the prime movers behind having this proclamation today is one of my classmates of Statesville High School, Diane Wilson."
Mayor Kutteh went on to say "Whereas the Vietnam War was fought is Southeast Asia between 1954 and 1975, approximately 2.7 million American men and women served in the Vietnam War. And of those, over 216,000 were from North Carolina. And whereas more than 58,000 Americans were killed in action and may thousands more were wounded and injured or determined to be missing. And whereas on March 29, 1973, the United States Military Assistance Command, Vietnam was disestablished and it was that day that the last US Combat Troops departed Vietnam. And as many of our Veterans returned home to be shunned or neglected or face treatment unbefitting of their courage and received a welcome unworthy of their example. And whereas the Vietnam War Veterans Recognition Act was signed into law in 2017 designating March 29th of each year as National Vietnam War Veterans Day to pay special tribute and provide the recognition deserved from Vietnam Veterans."

Chuck Harris, US Army Retired with 27 years of service and he is a Vietnam War Veteran. He also is the Commander of Hurst Turner American Legion Post 65 of Statesville.
Martha Harris, member of Hurst Turner American Legion Auxiliary Unit 65. She is a Vietnam War Veterans Wife.


Harold Wilson, US Air Force Vietnam Veteran, flew missions over Vietnam for 22 months. He is a lifetime member of Hurst Turner American Legion Post 65 of Statesville.

Dianne Wilson, I'm the District 11 President of the North Carolina American Legion Auxiliary. She is a Vietnam War Veterans wife.
About the City Of Statesville:
The City of Statesville is truly a diverse community that welcomes new people, new voices and ideas, new industry, and business. We have already made significant investments in our downtown amenities, our business sector, our schools, our infrastructure, and more is on the horizon. We are creating a dynamic future for ourselves as we build on our successful history and the positive energy we experience today, all the while incorporating the values and quality of life that we cherish. To learn more visit www.statesvillenc.net.
---
Originally posted by City of Statesville via Locable